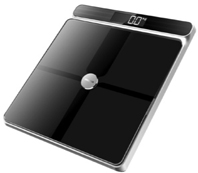 Weight gain is used by healthcare providers as a marker of heart failure decompensation. Increases in body weight are associated with hospitalization for heart failure and begin at least 1 week before admission. Daily information about patients' body weight identifies a high-risk period during which interventions to avert decompensated heart failure that necessitates hospitalization may be beneficial.
My Vital View makes managing your weight simple by automatically capturing and analyzing each and every test result, you no longer need to document and keep track of a log book.
The My Vital View Weight Scale is designed to immediately transmit every test result, using the latest Bluetooth Health Device Protocol to a HIPAA secure health cloud, which analyzes each test result based on a contingency architecture approved by the patients healthcare provider.
If an acute or episodic event is recognized during the analytic review,My Vital View will automatically generate a notification for any person or persons, which have been authorized by the patient to receive alerts. The alerts can be predefined by each care provider to be delivered  via IVR, Text, Email or a combination.
Specifications 
Functions: weight, body fat, body water, body muscle, body bone, BMI, basal metabolism.
Size: 309.5mm x 329.9mm x 8.4mm
Unit: LB/ST/KG;  Graduation: 0.22LB/0.1Kg,
Accuracy: +/- 0.5%;
Auto-on, Overload, low battery indicator
Communication distance: 10m(barrier free)
Inverse LED display, ITO contact for measurement