ARM BLOOD PRESSURE MONITOR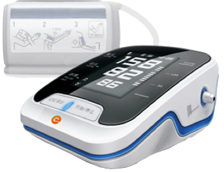 ARM BLOOD PRESSURE MONITOR
Cardiovascular disease is the leading cause of death and disability world-wide. Managing your blood pressure is the most important risk factor for cardiovascular disease. Reducing blood pressure by lifestyle interventions  is pinnacle in preventing strokes, heart failure and coronary heart disease.
My Vital View makes managing your blood pressure simple by automatically capturing and analyzing each and every test result, you no longer need to document and keep track of a log book.
The My Vital View Blood Pressure Monitor is designed to immediately transmit every test result, using the latest Bluetooth Health Device Protocol to a HIPAA secure health cloud, which analyzes each test result based on a contingency architecture approved by the patients healthcare provider.
If an acute or episodic event is recognized during the analytic review, My Vital View will automatically generate a notification for any person or persons, which have been authorized by the patient to receive alerts. The alerts can be predefined by each care provider to be delivered  via IVR, Text, Email or a combination.
Specifications 
Product dimension(CM): 13x14x11
Product weight(GW): 230g
Accuracy: +/- 3mmHg/g(Pulse:+/-5)
Pressure resolution: 1mmHg/0.1Kpa
Pressure measurement range: 0-299 mmHg (0-39.9Kpa)
Heart beat measurement range: 40-180 pulse/min
Pressure display range: 0-299 mmHg (0-39.9Kpa)
Memory data storage: 720 sets; Time display; Auto off
Touch button operation; 4xAA Batteries;
Storage condition: temperature: -20-55 C and humidity: 15-95% RH